---


Shakespeare' s iconic play, "Romeo and Juliet" lay the solid foundations of our present-day ideas of love and romance, despite the wear and tear of four centuries. William Shakespeare vividly recreated the mad longing of young love, its reckless nature, and its dangerous excitement as it often straddles life and death. The play has kept theatre companies and all sorts of artists engaged for centuries with stagings of the original, revisitations, updates, and major rehauls. We all keep coming back to this love story, and it continues to stay relevant as long as we keep believing in love – something we definitely need more of in today's day and age.
Ballet BC will be showing choreographer, Medhi Walerski's contemporary dance version of this classic titled "Romeo + Juliet," and which we will get to see, fittingly, a week after Valentine's Day. If Walerski's previous productions at Ballet BC are any indication, this show will be as refreshing as they come. We are excited to see Walerski's interpretation of "Romeo and Juliet," as he has a wild imagination and always operates from a very daring place outside the box. To get a deeper sense of the show, we spoke to the dancers who play the show's lead characters. Dancers Brandon Alley and Emily Chessa are seasoned Ballet BC professionals but this rework has been an exciting challenge for them too.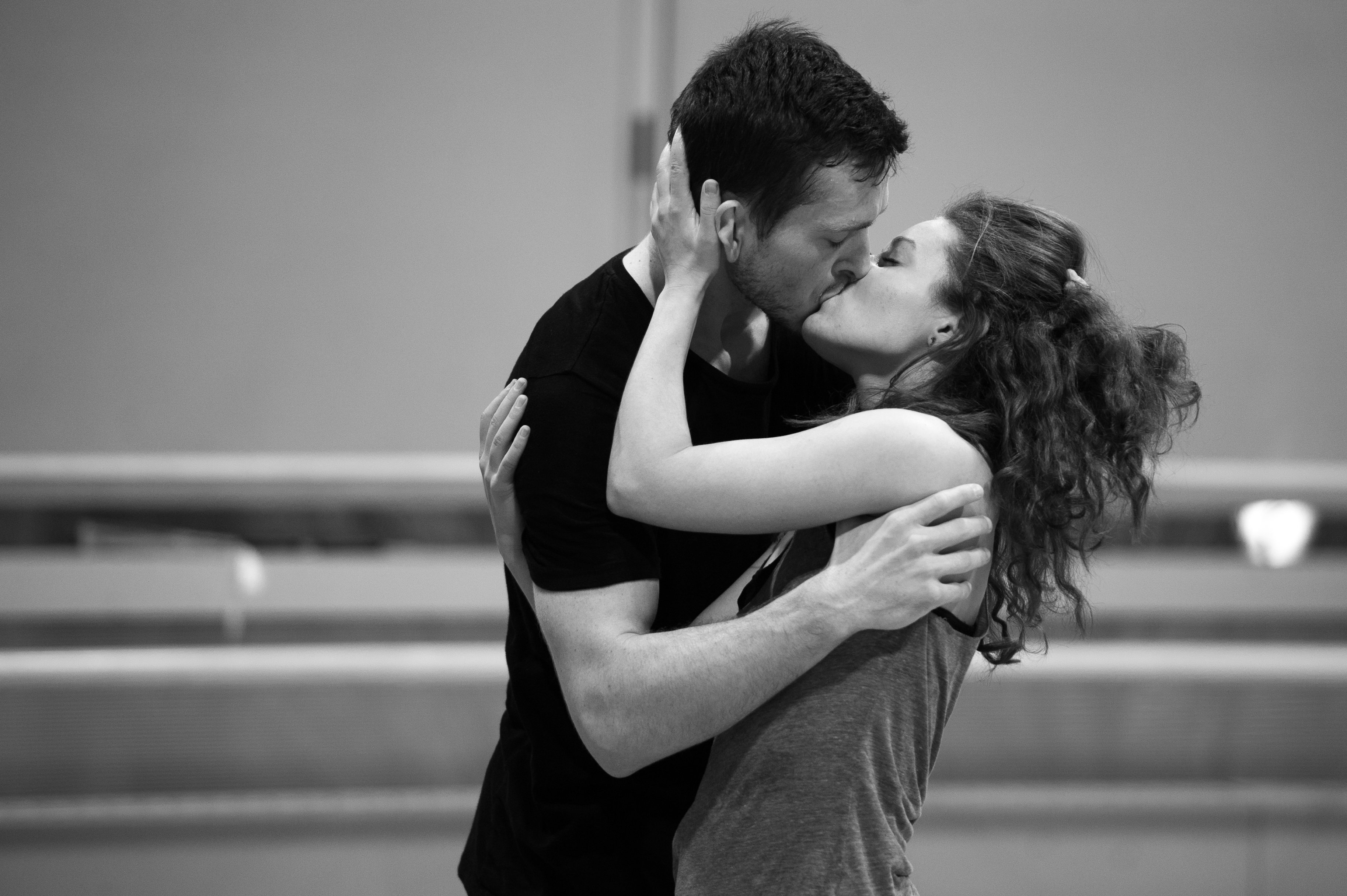 Emily and Brandon, please tell us about yourselves. When and how did you get into dance and what was your journey like to Ballet BC?
Brandon: I grew up in North Carolina in a small town. My sister was a dancer at our public high school so I would always go to her rehearsals and watch her. I remember seeing a hip-hop dancer perform solo there and it inspired me to look into movement and hip-hop music. When I got to high school I enrolled in the dance program and it just took off from there. I got obsessed with it. My teacher guided me into ballet classes and other kinds of classes. Then I ended up getting into the University of North Carolina School of the Arts, and after that I went to the Hubbard Street Dance School in Chicago.
It was all super fast. I spent two years in Chicago and moved to Los Angeles. I came to a turning point with dance then. I wasn't happy with the city. The company was great but I just wasn't a good match. I was thinking about moving back to Chicago and was in limbo. One of my friends gave me Emily Molnar's email and I got in touch with her. She emailed me back and was super interested. I came up here for four days and auditioned. I fell in love with the company, and Emily Molnar, and the city. A month or two later she offered me a contract.
Emily: I grew up in Vancouver, and am born and raised here. My parents enrolled me in movement classes when I was two so I've been doing this since I was very little. They just kept me in it and I guess I liked it and was good at it. All through high school I also played school sports so I went between volleyball, baseball, and dance. One of my teachers in Richmond where I was recreationally doing jazz, contemporary, and pointe ballet, recommended I go to their professional dance program so I did a summer intensive and then realised that I wanted to commit to dance. So I went into Royal Winnipeg Ballet's professional division. I was there for four years, moving away at 15.
On graduating I wanted to do more than just ballet, I wanted to do contemporary and improv because I wanted to be challenged. I moved back to Vancouver. I had noticed that Emily Molnar had taken over Ballet BC and what she was doing with Ballet BC really inspired me. I decided I wanted to dive into that world so I went to Arts Umbrella and did their graduate program, after that, I got an apprenticeship, and thankfully it all worked out and there was a contract at the end. All in all, it took me 6 years.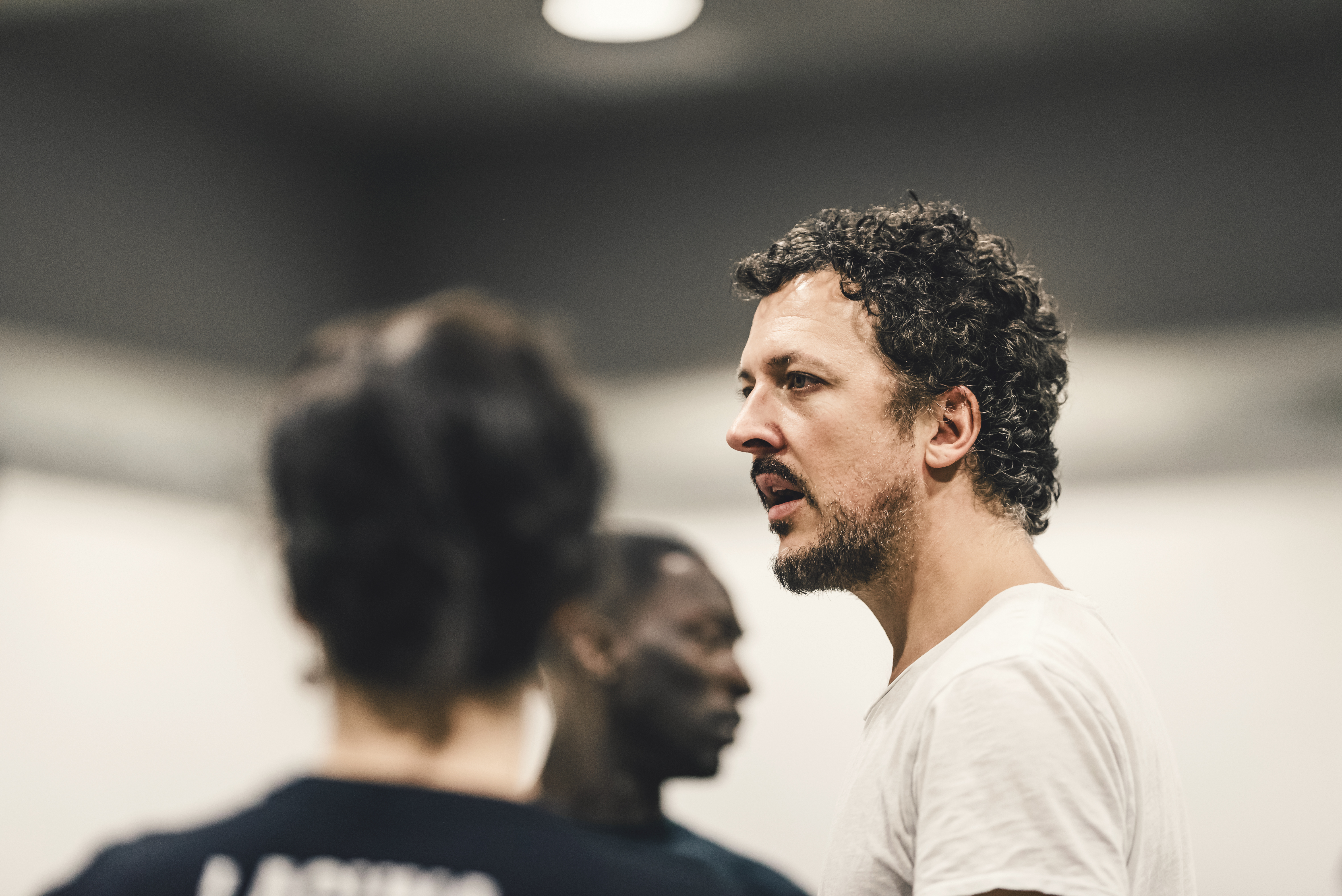 What is Medhi Walerski's vision for this piece? What did he communicate to you about the characters?
Emily: I can't speak for him but from what we got from working with him is that he wanted us to understand Shakespeare's characters very closely. Who is Juliet and who is Romeo? A 13-year-old girl and a 15-year-old boy in love.
Brandon: Medhi always talks about what is driving the characters. He's really passionate and talks about always being honest. He wants us to really go there. To think about acting and creating different images. He wants to conjure up different emotions. Instead of it being something huge, and some crazy, balletic, technical thing, he wants it more raw and approachable.
Emily: There is also a lot of room for us to put ourselves into the characters.
Emily, how would you describe your Juliet and Brandon, how you would you describe your Romeo?
Brandon: When I find something that I love, like poetry,  dancing and music- anything that inspires me, I obsess over it. So I kind of relate to Romeo in that way.
Emily: Juliet is very hard headed. She knows what she wants. That's something that is a big part of me. I do anything to get it, not rebellious but in a civil, nice way. I worked really hard to get where I want to be, and with Juliet, her passion is Romeo, and she knows she wants to be with him at all costs.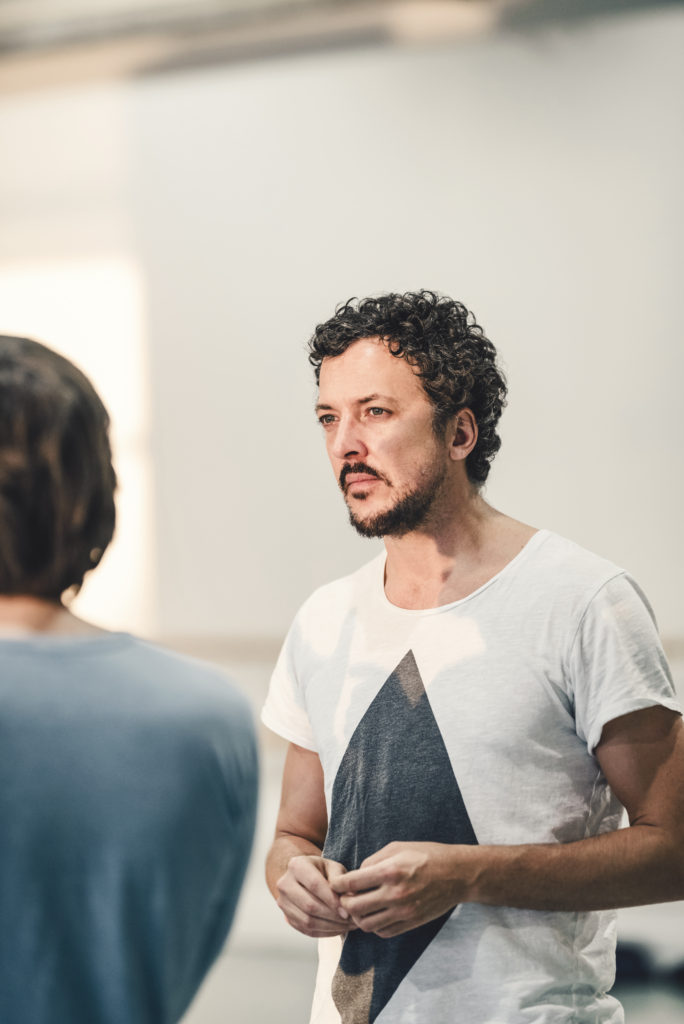 Romeo and Juliet famously fall in love at first sight. Do you believe in love like that? Do you think it's still relevant in our modern times?
Emily and Brandon: I definitely believe in love!
Brandon: Especially in the more mature kind of love. When you're younger it's a different kind of love. I do think love at first sight happens for some people but over time it develops and becomes something even better.
What was the training process like for this show?
Emily: We started in the summer, around August. That went for 2-3 weeks. Those were the very beginnings of what Medhi wanted to do with the group. He dove into characters in December. In between, there was a lot of time for us to read the books, watch the movies, and study the characters. In December we all immersed ourselves into the scenes more and the characters.
We're here in Banff now and almost done the piece, but there is still a lot of work to do characterwise. It's going to be a never-ending exercise until performance night.
How did you cultivate chemistry between your characters?
Brandon: We worked together a few years ago, and we've danced together in other pieces as well. There's already a friendship there.
Emily: We've danced with each other a lot so there is a lot of trust.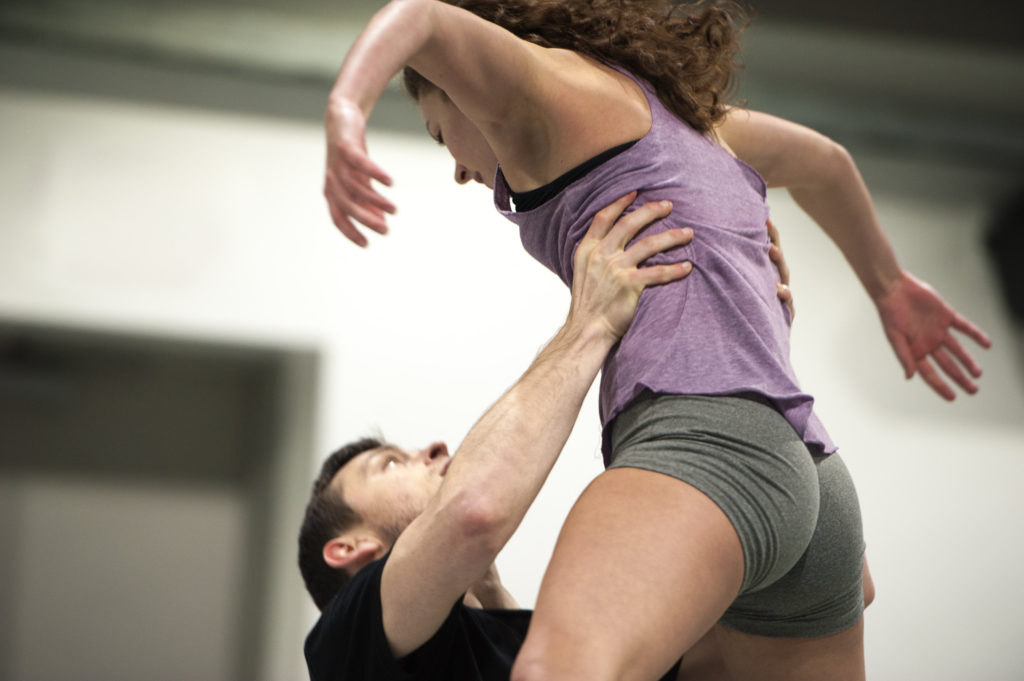 After dance performances, how do you physically recover and rest?
Brandon: A lot of sleep.
Emily: Yeah a lot of sleep.
Brandon: Eating well. We don't have a lot of time off so when we do I try to find something that helps me relax. Like a big bath. I just try not be too physical during down times.
What do you do when you're not dancing? How do you stay inspired?
Brandon: I listen to a lot of music and I watch a lot of movies. I like different kind of stories and studying different characters. I like paying attention to the production of movies. I also love poetry. I love to be active and being outdoors. It's easy to stay inspired in Vancouver, everything is gorgeous- the mountains, the water. The architecture in Vancouver is really interesting and unique too. Also meeting new people and talking to them and seeing how you react and discovering yourself that way.
Emily: I agree. I like listening to music and discovering new artists. I have a record player and I love listening to old records. I also watch a lot of movies and TV shows. When it's not raining I like to go for walks in my neighbourhood and along the seawall.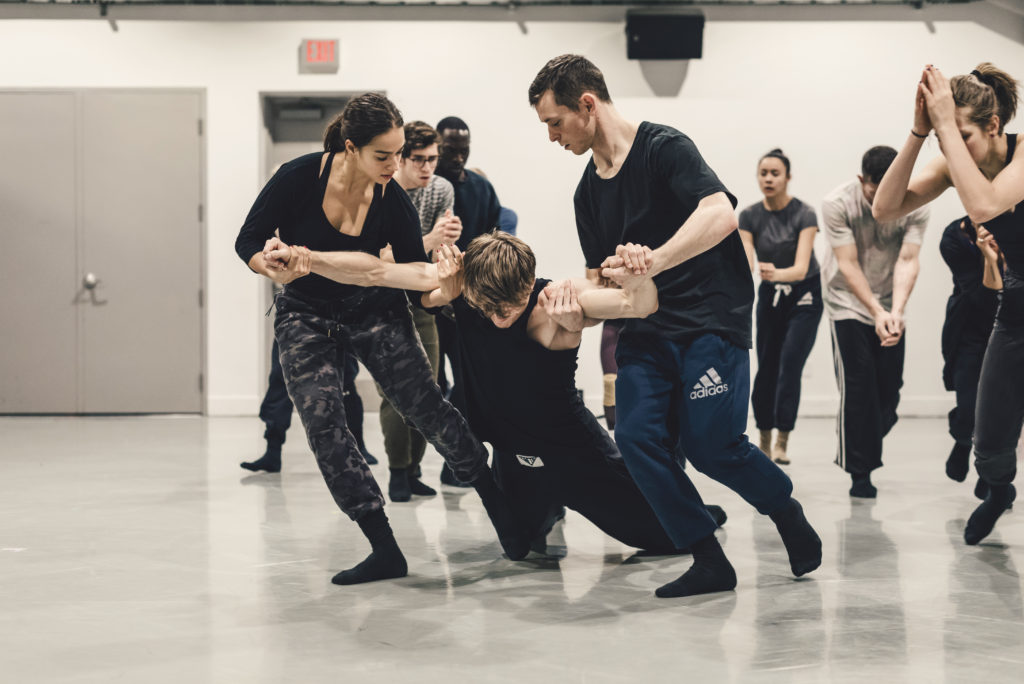 What is your favourite thing about dance? How does it feel when you are on stage?
Emily: I'm a quiet person when it comes to meeting people or being in groups. I'm an introvert. Being on stage is my way of speaking. I feel freer when I'm there. Everything just disappears. It's exhilarating.
Brandon: I can relate to that too. Although I like meeting people as I said, when I'm on stage, all the world's anxieties and all the pressures I put on myself clear up and I have everything just wide open- with the audience, with the choreographer, with the other dancers. The physical hurdles, like the sweating and the general physical complexity, I love all that. Being in that exhausted state really gets my brain involved and going.
Emily: There is something about being completely exhausted that is very addicting.
What do you want to be doing in 10 years?
Emily: I still see myself in the industry. I've always thought about travelling. That's a big thing for me in the next ten years.
Brandon: I feel the same too. Travelling is a luxury we have in dance. You get to explore new communities, new cultures, new art. I'm also interested in pursuing different artforms. And maybe in the future putting those pieces together in a show or a company. I'm also very much interested in acting, and learning about acting on stage and portraying different characters. I want to take acting classes and go into more theatrical projects when my body becomes less fluid.
A favourite dance performance we should drop everything and go and watch on Youtube now?
Emily: Michael Jackson's "Smooth Criminal" video.
Brandon: "Billie Jean" too. When I was getting into dance, I used to watch videos of different companies. All the work of Crystal Pike. Also, Ohad Naharin's "Deca Dance" is on Youtube. It's an hour long. When I watched that for the first time, it was the most incredible thing I had ever seen.
Emily: I did that too. I watched a lot of Ohad's work. And when I was coming into contemporary I watched a lot of Jiří Kylián's work. I just wanted to make work that was as flawless as his.
You can get your tickets over here and have yourselves a lovely Valentine's Day! <3333
– Prachi Kamble
Talking Matters of the Heart with Ballet BC's Romeo + Juliet