---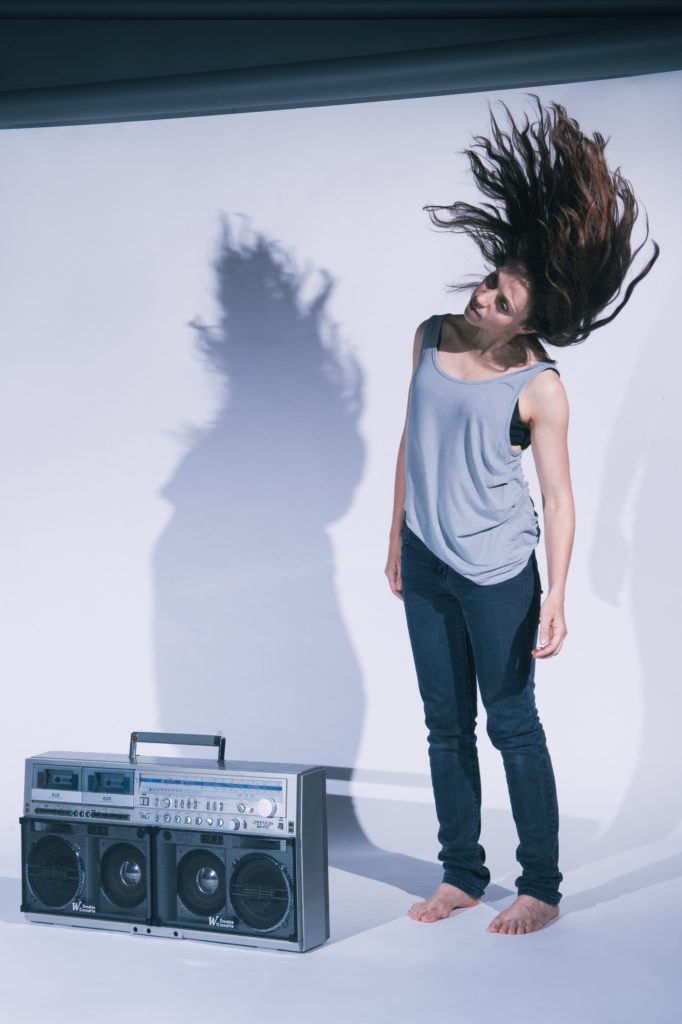 Cute is a dangerous word because when we say anything is cute we think it's small and it's frivolous and of course, feminine. We definitely don't think cute is intellectual or extremely well versed in philosophy, history and ethics. But it's never too late to change our vocabularies after watching PuSH shows, right? I want to resist from calling Nicola Gunn cute but her performance in "Piece for Girl and Ghetto Blaster" was just so endearing. Her PuSH show is a quirky pastiche of ideas on morality and politics. She has taken the one-woman-show format and vigorously coloured outside its lines with an energetic performance.
Gunn's narrative is spoken word, jam-packed with poetry. As she tells the tale of a woman who is on a walk in the countryside of the Belgian town of Ghent, she translates each word into a physical movement- and it's never the physical movement you expect. With these novel interpretations, Gunn constructs a dance that is more storytelling than any genre of dance.
As the woman in her story jogs along, she witnesses a man on a bridge throwing stones at a duck. This injustice infuriates our protagonist and compels her to go home and post on Facebook, and maybe even do more. Should she be taking matters into her own hands to be a good samaritan?
But then Gunn reveals that the man is a visible minority in this Belgian town, quite possibly a refugee. This puts our heroine in a tailspin as she questions her authority to police the situation.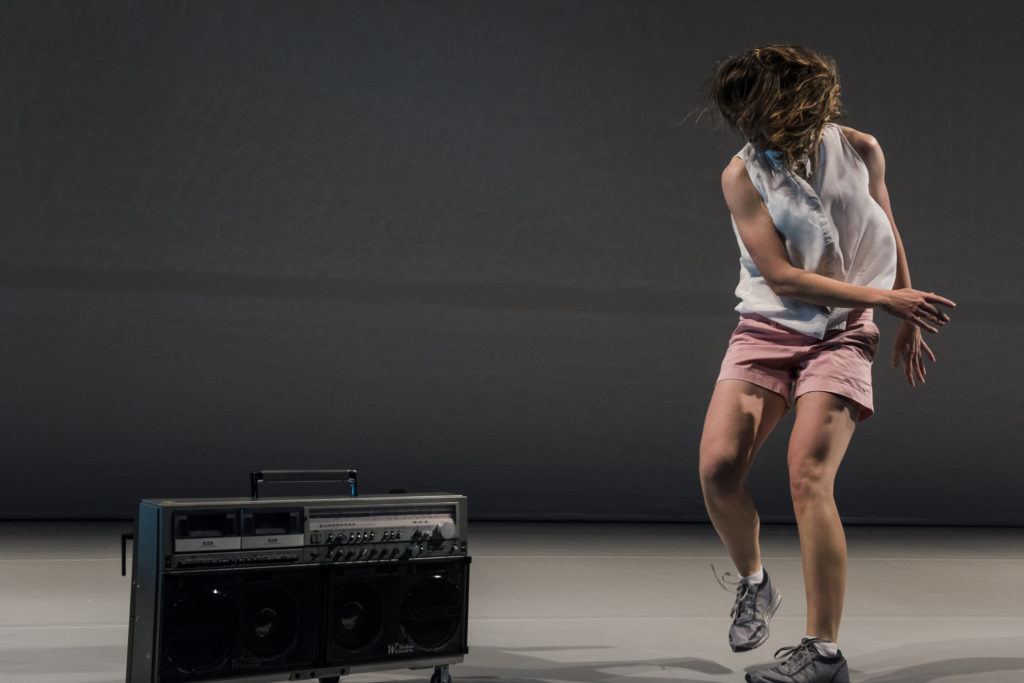 Once satisfied with examining the situation of the man and the duck and the stones from her point of view sufficiently, Gunn flips the script on her heroine. She reveals that the heroine was jogging home from an afternoon tryst with her married lover when she ran into this duck situation. Who then is she to judge the man on the bridge throwing stones at a duck?
Gunn follows this train of thought exhaustively until she reaches out into the audience for answers. And by "reaches out" I mean she literally walks out into the stands and climbs over the seats and the people in them as if it were the most normal thing in the world. Her thoughts and words rambling like her lithe limbs and searching footing. Cue "endearing" because here Gunn forges a genuine connection with her audience in an act full of childish grace.
As the heroine races back onto the stage to grapple with her newfound ideas and a brightly coloured backdrop of two opposing colours (that demonstrate her inner conflict perhaps), the narrative flips yet again. This time to the point of view of none other than the duck herself! Without ruining too much, I'll just say that this involves strobe lights, smoke, and a richly textured overcoat. This is the apex of Gunn's performance and she surprises us with the direction in which she takes her story. This unpredictableness and creativity were my favourite things about "Piece for Person and Ghetto Blaster".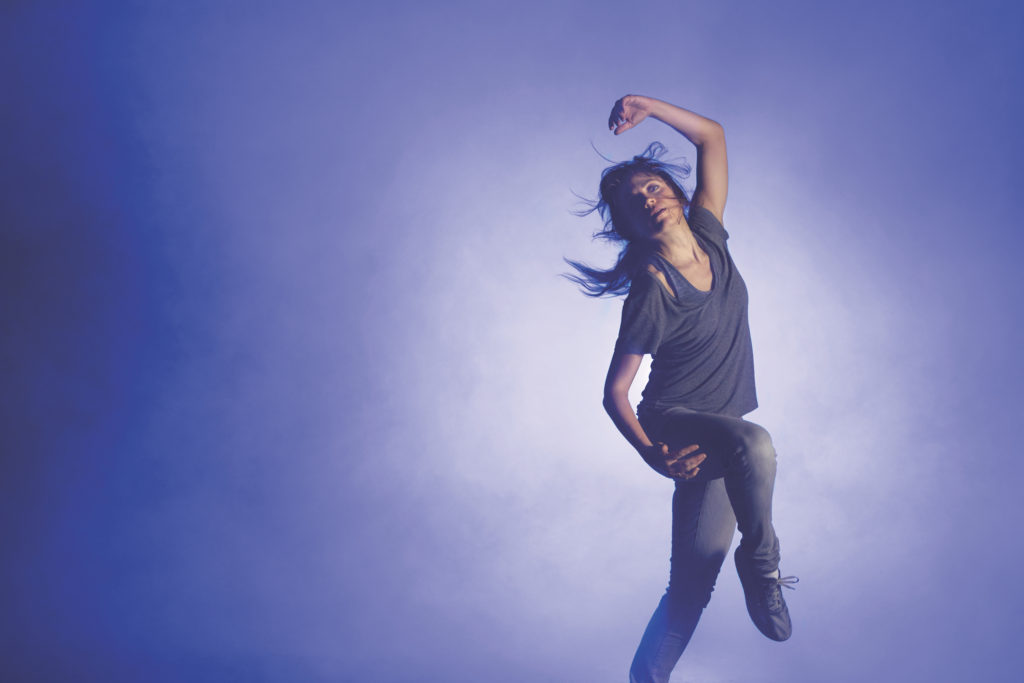 Armed with a boom box from the 80s (or a ghetto blaster, kids) that she periodically switches on to emit chilled electronic sounds, Gunn delves into psychedelic territory. She draws on her knowledge of Poirot and literature and anthropology and personal anecdotes about her Eastern European roommate at a writing retreat, to create a show that is buzzing with information and fleshed out with personal reflection. Gunn's oration is whimsical and playful- hence the cuteness. Her British accent, even though the program mentions that she hails from Australia, adds a sassy primness to her delivery. Gunn is also a very athletic performer. She moves energetically throughout the show, sometimes holding tough poses in the air that dangerously test her hamstrings.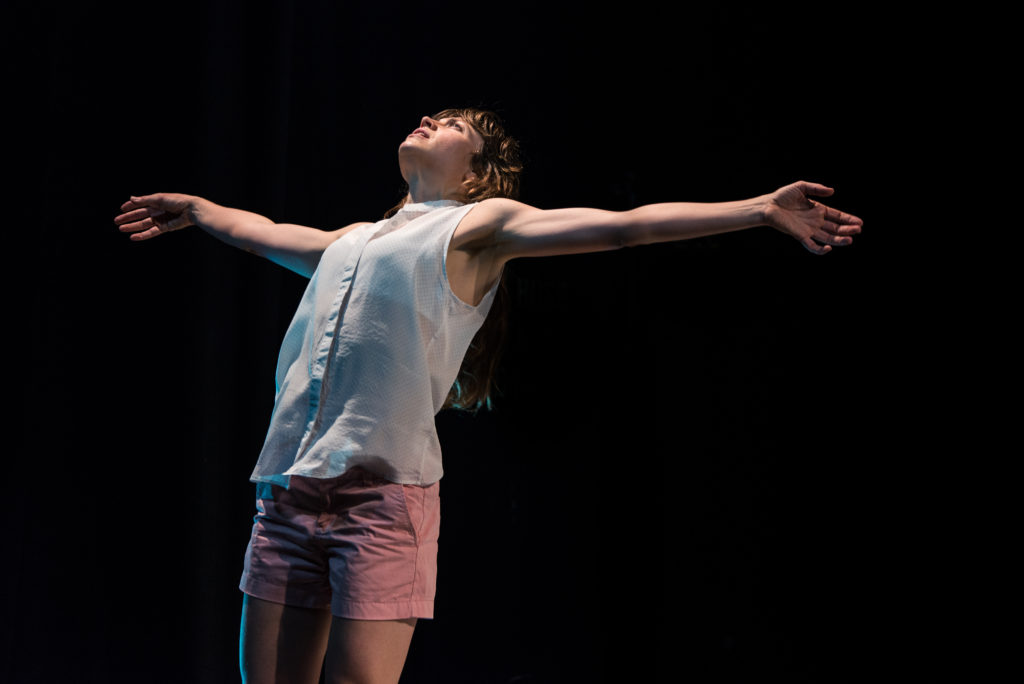 Gunn's show is minimal but just as inversely intellectual. It starts out a little slow but once she finds her rhythm and you latch on to the story that she dances concentric circles around, getting closer to the truth with every revolution, you get into the groove as well and crave more. Gunn takes a mundane scene and turns it into an exploration of morality, and in the process also questions the validity of performance art.
The tone of the show is light and largely comedic. The heroine's dilemma is relatable especially in the context of today's global refugee crisis and how it tests our individual compassion and humanity. Are we really as good and kind and generous as we think we are? Or are we just condescending narcissists? Do refugees judge us and pity us the way we do them? Quite possibly, implies Gunn. Which makes us look pretty foolish and thus makes for a very comedic nook, in which the show so wonderfully roosts.
"Piece for Person and Ghetto Blaster" showcases the multi-faceted talents of Nicola Gunn who is an effervescent thespian and playwright. This may not be an ostentatious production but it is intelligent, quirky, and pulsing vibrantly with a good heart.
– Prachi Kamble
Nicola Gunn is Playful in the Ethically Contemplative "Piece for Person and Ghetto Blaster"