---


We are mid-way through the Fringe week and crossing off shows on our list with excited fervour by the day. These one-hour theatre projects are more addictive than salted peanuts. Here are two more shows that wooed us in the last couple of days.
Badmatch
When I trudge up the hill to any Studio 16 show. I always think to myself, "this show better be worth leaving the snugness of Granville Island!" I made that laborious trek for "Badmatch" this Fringe, which is an exploration of the now universal experience of online dating. I am more than happy to report that my little hike was more than worth it. At this point in our dance with technology, we've come far enough to have indulged in the game of finding love over the internet at least a couple of times. "Badmatch" charts the journey of Leanne, a young teacher slash actress, who is looking for the perfect love. Leanne signs up for online dating and her profile is projected on the screen before the show starts. We see hilarious messages from her "matches" pop up on screen. That projection sets the tone for the play perfectly. We know immediately that this is going to be funny and honest. Leanne gets involved with a colourful set of men, many that are exclusive only to Vancouver- the Grouse Grind guy or the Yaletown guy or the Main Street Guy. Then there is the guy who gaslights you with his chaotic mixed signals. And who can forget the model-hot guy who won't take no for an answer because he's never heard it before. Leanne goes through it all on stage for us and as she did that day we could feel people in the audience nod furiously with recognition.
Leanne went through all possible dating terrors for us on stage and with every less than perfect outcome, we could feel people in the audience nodding furiously with recognition. The energy of resonance was potent! Leanne's online dating journey is so accurately mapped out in the script, that it connected with the audience like, idk, a USB stick sliding into a USB port. This is "Badmatch"s superpower.
Leanne Kuzminski has got the story arc of online dating down to a science. Plus the jokes are downright hilarious.We're talking side-splitting pop culture gems. The guy who plays all the guys makes every character come alive. No two guys are even remotely the same. Leanne portrays her character with grace and vulnerability. We root for her and want her to succeed. Supporting Leanne is her voluptuous BFF (everyone has one in the online dating scenario, right?) who bears witness to all the ups and downs of the regrettable process. The three actors are of a very high calibre and produce an incredibly high-end performance while looking stunningly beautiful. The script has ample location changes, and prop and set changes to keep things fresh on stage. There is nothing amateur about this show. It's ready for the big leagues. Despite the show's accounts of the horrors of online dating, its concluding message is uplifting and empowering. You'll have to watch the show to find out what it is!
Aux.la.more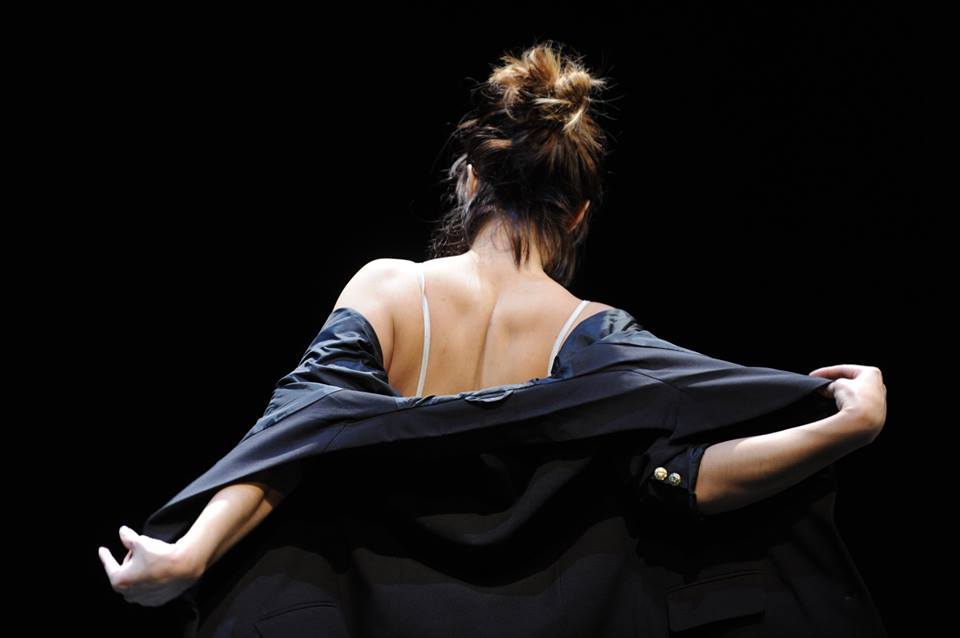 We didn't know what to expect from "Aux.la.more". We went in completely blind. Kara Nolte operates under Shakespeare Unchained and the show description included names like Vivaldi and Walt Whitman. That's what got us. We waited for the show to start in jet black darkness and complete silence in the intimate setting of the False Creek Gym. Nolte appeared on stage under a spotlight and for a good five minutes dove into a modern dance piece with her back to the audience, without the help of any music. You could hear her breathe. She then turned around and broke the silence with a warm smile and her charming, personable aura. We understand now the importance of her initial, muted dance. Hearing her sigh and breathe as we watched her create movement with her body brought us closer to her than any amount of words could have. Nolte then recited Walt Whitman's "When Lilacs Last In the Dooryard Bloom'd", a poem about death, life, love and beauty. She then showed us a dance she choreographed to the words of the poem. For the rest of the show, Nolte performed the same dance to Vivaldi, Edith Piaf and the Backstreet Boys. Never before have we gotten goosebumps from a Backstreet Boys song as we did in this show.
Nolte is a highly skilled contemporary and modern dancer. Her choreography translates words into emotions and movement with wicked perfection. She has a gift. In her show, she tells the story of her own search for intimacy and connection. She once mentions looking for it in the Downtown East Side. Raw details like that take "Aux.la.more" to an elevated level of connection. Nolte has a knack for beauty and poetry. She creates romance, nostalgia and melancholy with the unleashing of a smile, the drop of a wrist, the droop of her head and renditions of cheesy karaoke songs.
Nolte ended the show with a sweet, slow dance with an audience member, and filled the whole room with a cloud of love.
"Aux.la.more" is short and sweet and THE feel good show of this Fringe.
Buy your tickets at the Fringe Festival website!
-Prachi Kamble
Fringe Review 2016: Badmatch and Aux.la.more