---


Lovers of theatre, the arts, silliness, and just downright weirdness, rejoice for the Fringe Festival is back in Vancouver for its 32nd season! And what a season it is. With over a 100 shows staged across Granville Island and East Vancouver, this year the festival is bigger and better. It is an iconic Vancouver tradition. The leaves turn rust and gold, and off we go to Granville Island, studying the Festival program, lining up Fringe shows in our head to make sure there aren't any overlaps, then running from venue to venue in between, fuelled by a hunger to see something different, something creative and almost always- something fringey. Arriving at the doors of a sold out show, then running half way across the Island to another one, and seeing the best Fringe show of your life and profusely thanking the stars that your first choice was sold out. This is a festival of risks and euphoria. Sometimes disappointment. But mostly euphoria!
This year the Fringe has made some bold moves. The ticketing system is now, for the most part, all online. Big venues have joined the party like the Rio Theatre and the Cultch. And inclusion and representation have become a dominant focus. With this polarised mix of warm, comfortable traditions, and smart, edgy modernity, we embarked on our 2016 Fringe adventure with eyebrows raised in curiosity. Here is our very own Fringe Diary for 2016.
Perpetual Wednesday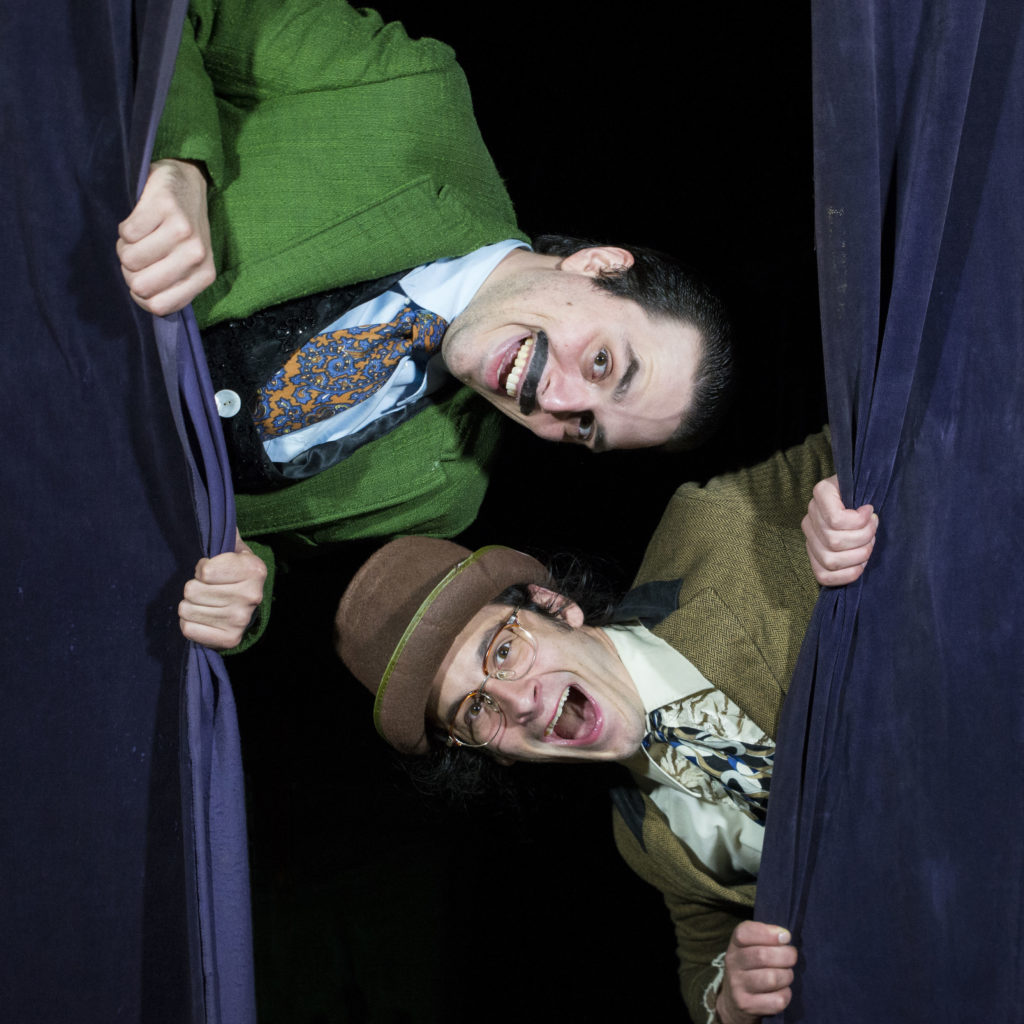 "Perpetual Wednesday" takes you back to the simplicity of comedy. Here slapstick meets vaudeville meets projections meets clowning meets magic meets crime noir. Walter and Bruce are magicians who get caught up in a very complicated murder that has roots in ancient folklore. As they come to terms with their horrific crime through hilarious introspection and quite literal interrogations, they set you up for the most innocent kind of laughter.
Bruce and Wayne make fun of each other and rattle off puns by the second.This duo from Portland offers a healthy dose of self-deprecating humour.  There are colourful suits, a purple magic curtain, lots of clowning gear, and intricate projections that narrate the hilarious mythological backstory. We would have wholeheartedly recommended this show for children if it weren't for the naughty jokes about sex and drugs that pleasantly surprised us in the middle. The plot is thin and when it does get thicker towards the middle, it becomes a little hard to follow. There is a lot of repetition and a lot of things-not-going-anywhere. But all that doesn't seem to matter too much because of the chemistry that Bruce and Wayne share. Their comedic timing is flawless and the machine of their physical comedy is well-oiled. Also, did we mention they are really adorable? The show brought us back to a simpler time where laughs could be hatched from silly wordplay and illogical physical comedy. Be warned though that you will have to be a bit patient to let things pick up.
"Perpetual Wednesday" is a well-done, light-hearted, punny hour of slapstick comedy.
Happiness
We went from watching two pun-spewing, messy and silly men attempting (and failing) to do magic, to witnessing two sharply-suited, clinically serious, motivational speakers slash salesmen, commodifying happiness. The two shows couldn't be any more different. You will be listening attentively through this one if you want to keep up.
James and Peter are self-help bros. They have invented a series of inventions that guarantee to give you happiness forever. They test each other to see who can sell the most unmarketable thing. Games lose their frivolity when these Mad Men tread into murky personal waters. We begin to realise that these self-assured, cocky guys are not as happy as they proclaim to be. Happiness is an ambitious project.
Happiness seems to be at the forefront of our thoughts these days, as we question the meaning of life in a world that is changing dramatically by the hour. The show is long and the subject matter is dense and heavy. A lot happens in a short amount of time, and you don't get to appreciate all the clever details of creativity. The stage doesn't change much visually which makes it hard for the audience to focus for long stretches. Somehow, Happiness did not touch us the way we wanted it to. We wanted to learn a valuable lesson on the nature of happiness but left feeling quite distant from the whole theme. The actors were incredibly handsome and delivered their arrogant and sexy lines with hot confidence. We were reminded of Mad Men, Wall Street and Apple Keynotes. The guys looked fantastic but we were not able to connect with them emotionally. The characters' vulnerabilities were underdeveloped. The show could have found a way to get more intimate with the characters. A little trimming of the script, easing up on the weightiness of the subject, and greater contrasts in the moods, could all make the show more engaging. Or perhaps, this show may be better off as a full-length play where character development could truly be milked. We definitely wanted to know these guys more!
If you are looking for a good drama full of gravity, that makes you question our present-day, tech-obsessed sociology, this might be the one for you.
The Lion, The Bitch and The Wardrobe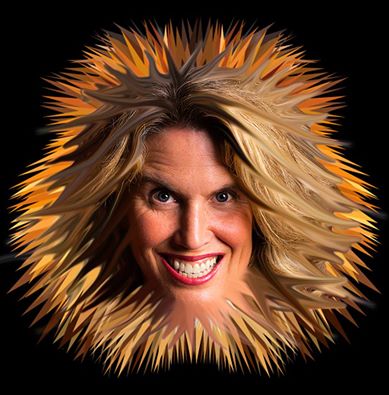 Everything about Sharon Mahoney will make you laugh. Her comedy has origins in 15 years of street performance. She's got catch phrases down like it's no one's business. She knows how to keep a crowd entertained and that's exactly what she did for the entire hour she was on stage. Never once did she let our attention falter. Mahoney has broken up her show into visually distinct sections with the help of costume changes and props. She starts out with Canadian patriotism, goes on to feminism, aging, death, change, and explores darker subject matter such as mental health and anxiety. She has collected witty observations through her 40 years of living in a patriarchal society as a woman who won't do what everyone else is doing. Her jokes are current and knock a punch with their concentrated vibes of empowerment.
Mahoney takes on different personas, the best of which is her self-destructive inner voice – the Lion, who has a textbook villain laugh that will make you LOL every single time. In between the laughs she cleverly sneaks in some much-needed medicine. The medicine being, a more evolved outlook on mental health, especially when it comes to women's experiences. It is now a better known and more accepted fact that being a woman in a patriarchal society is a daily, mental battle with plenty of opportunities along the way for burn outs. Mahoney's show is very personal and painfully honest. She brings forward an important conversation we all need to be having. And if we can laugh while we learn, well what could be better than that? Hoo Hoo Ha Ha Ha Ha. That's the villainous lion laughter for you.
Hear this Bitch out!
Stay tuned for more reviews as we hit up more shows until Sunday.
Get your tickets at the Fringe website today!
-Prachi Kamble
Fringe 2016 Reviews: Perpetual Wednesday, Happiness, and The Lion, The Bitch & The Wardrobe