---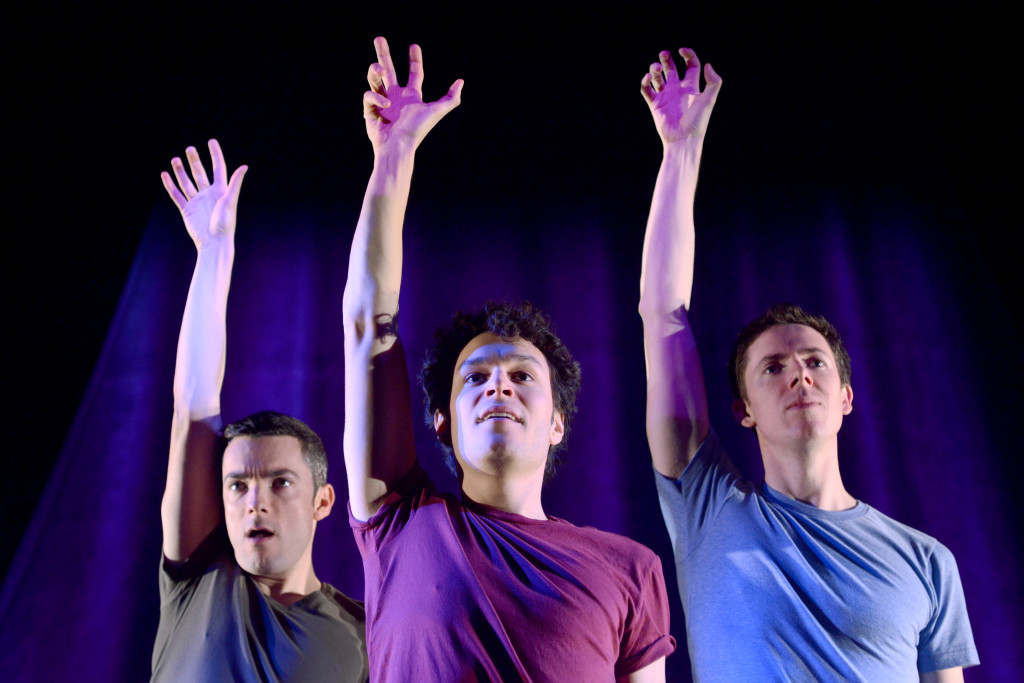 Toronto-based actors and playwrights, Damien Atkins, Paul Dunn and Andrew Kushnir, are in hot pursuit of what it actually means to be gay. "The Gay Heritage Project" is a foray into world history. It seeks to uncover the thread of shared experiences that can be traced across generations and borders. The Project is a celebration of queer history that was, up until the last century, lamentably buried. The discoveries the trio made while making the show have greatly surprised them. "We let the play depict our own ignorance and the naiveté we developed through the education we received," confesses Atkins. Through this honest examination has emerged a work that laughs, sings and grieves with genuine emotion over intrinsic questions of identity.
Atkins, Dunn and Kushnir wrote the play over several years using a Shakespearean technique called vocal masque. The technique allowed them to play more than 200 characters together. "Paul and I used to teach Vocal Masque at The National Theatre School," explains Atkins, "it helped students learn how to keep an audience's attention using just their bodies. You get up and improvise on your feet, so the writing actually comes from your body not your head. One actor plays many characters so it's a great technique for taking a really big subject like gay heritage and breaking it down to make it entertaining."
The playwrights worked with historian J. Paul Halferty to unearth the stories of queer people who were shunned into secrecy. The search for these lost histories did not come without its set of challenges. "History is usually written by the oppressor so it's a monohistory" says Atkins, "gay history has been lost, particularly in the cataclysms of the World Wars, the AIDS crisis and under stringent political regimes. Heritage also gets lost because the people who carry it die."
The play starts off with the personal histories of the playwrights. Atkins is Australian, Kushnir is Ukranian and Dunn is Scottish and Irish. The guys then divvy up gay history into three major areas: famous gay figures in history, the AIDS crisis and gay people in the military. They each tackle a multitude of stories and subjects. Atkins reflects on the regression that has occurred in gay history since Ancient Greek times. He cites in particular a Roman emperor who married a man in a public, joyous, royal wedding, but "a few generations after that wedding, a Christian emperor issued a decree that people who engaged in same sex acts be burned alive." Gay rights have always been vulnerable in that regard- never set in stone. Atkins agrees: "the quality of gay life hinges on the personal whim of whoever is in power. We think that history moves in one direction- forward! The truth is that it doesn't. Sometimes history backtracks."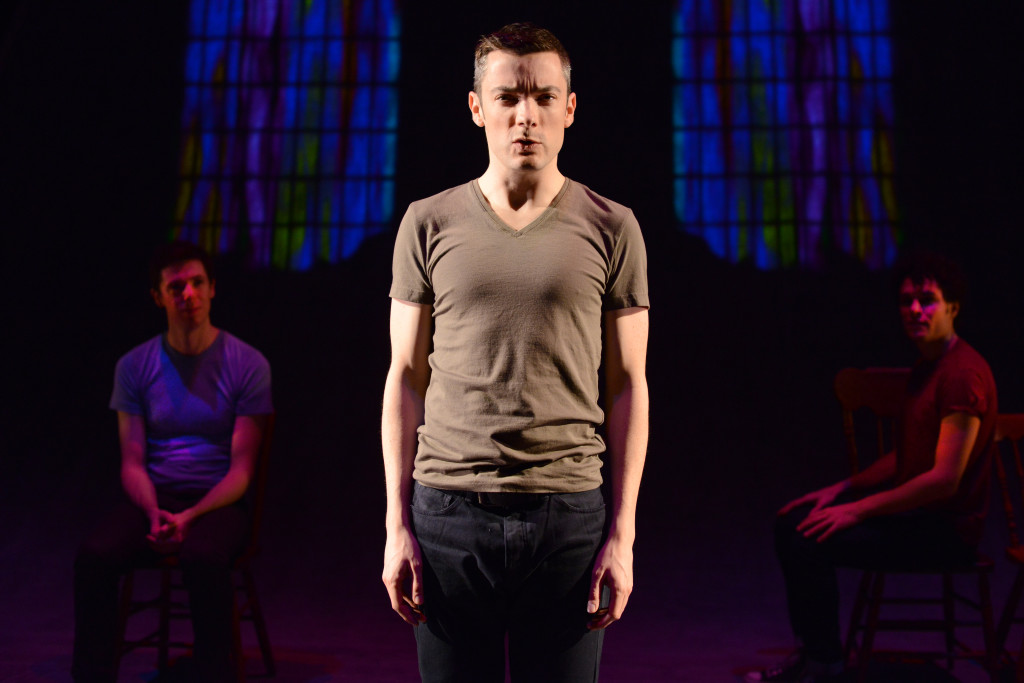 This potential social regression is what drove "The Gay Heritage Project" into existence. Atkins came out during the AIDS crisis and he understands better than anyone the importance of gay people raising their voice. "The only reason I'm alive today is that gay people before me made noise and made sure that the word got out about HIV." As a result, the general mainstream atmosphere is significantly better than it used to be, say a decade ago. Atkins recognises that things are better in some parts of the world but there is still a lot of work to be done. "Just last month I read about the pride flag being burned at UBC" he points out, "lots of things have changed and lots of things haven't. AIDS is still a crisis. It functions as a prism that reveals who society does and doesn't care about. At one point it was gay people, now there are lots of queer people of colour, women and millions of people on the African continent who are not getting the care they should."
Growing up in Edmonton, Atkins remembers how important the support of his gay mentors was to the formation of his own identity and self-esteem. The atmosphere that he grew up and consequently came out in, informs his artistic drive. "I came out in a gay community that was in the throes of panic and catastrophe" he says, "it imprinted itself on my DNA in the form of rage. It made me a really angry artist." The sense of identity and community, that "The Gay Heritage Project" seeks, could be the antidote to the despair felt by many in the queer community. Seeing representations of gay identity on stage and films then becomes all the more important to create that sense of belonging. Atkins remembers seeing the first genuine portrayal of a gay character in the movie "Priest" in the 90s . "I was so invested in it, so moved, so devastated and turned on by it, that I realised what I had been missing all those years" he remembers, "all I needed was one experience of representation and it carried through to everything else in my life. This is why the whole debate about diversity is so crucial. It absolutely does matter for young people to see somebody that looks like them on stage or on film."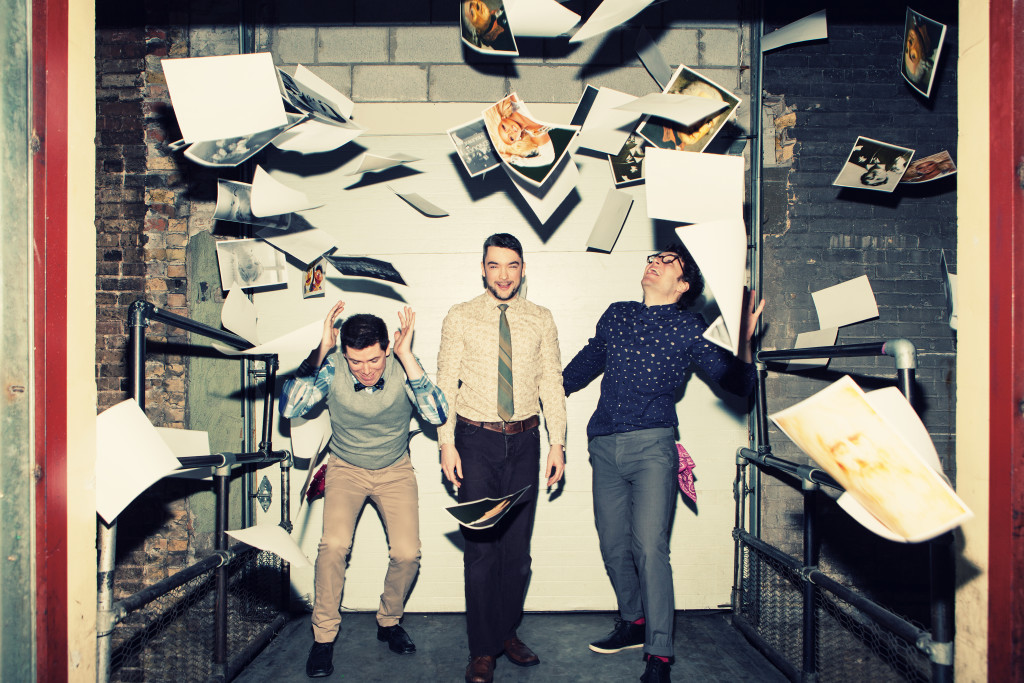 While Atkins talks about zeroing in on what makes up gay heritage, he wants to make sure that the final classification is inclusive, broad and diverse. "It's tricky because we are three white guys. We couldn't possibly hope to represent all the aspects of the queer community. That is what is challenging and impossible about the task we've taken on." The Project's main goal is to acknowledge the broad spectrum of sexuality and gender in the queer community. "When you look for grand links there is a danger of flattening out people's complexities and reducing complicated identities to simplistic strands. For the government to respond to the AIDS crisis and equal rights, we had to present ourselves as "normal folk". The we're just like you! appeal" which does a disservice to the beauty and essential nature of diversity.
Atkins, Kushnir and Dunn have already received rave reviews for their runs on the East Coast. They are now headed to the Cultch to charm the pants off of the West Coast starting March 2. The play in Atkins' words "[hopes to make] the audience feel seen and valued. By depicting our own experiences with heritage, we invite other people to investigate their own heritage, if they want to." Vancouver awaits this thoughtful celebration of a community that has given human civilisation cultural wealth beyond measure.
For tickets visit www.thecultch.com.
-Prachi Kamble
"The Gay Heritage Project": Actor Damien Atkins Talks about The Quest Behind Gay Identity